My cousin young is a good kid, got a solid head on his shoulders and is buying his first streetbike. Ok...so maybe not so much a vote for that solid head but shit....we all could get crushed by a falling elephant whilst stepping out the front door. Plus they're fun....motorcycles, not so much falling elephants.
Dusty is down for a bobber and is making good bike choices based on what would suit that style most; either a V or parallel twin. He's been really open to input from those that have been on two wheels before and that's pretty cool. A lot of guys (both young and old) get an idea in their heads and it turns into 'Fuck you world, I'm doing it my way!'.....which is cool and all but often with regard to bikes ends up with a worthless slag heap and a much lighter wallet. No, I think this kid is gonna do just fine.
My uncle is all about The Eagle, but I think he recognizes that perhaps a Harley is a better third or fourth bike. I imagine Dusty will find himself there eventually though...
Luckily the imports make great bikes that hold up and can be had for cheap, and for a first bike....cheap grins is what it's all about.
I've been nudging him toward a Virago 750 as they are like plankton (zillions of them out there for cheap) and parts are still available. Plus....with a little OE swapping here and there one can bump up to 1100ccs and almost all the Vstar 1100 goodies can be used since it's the same engine core.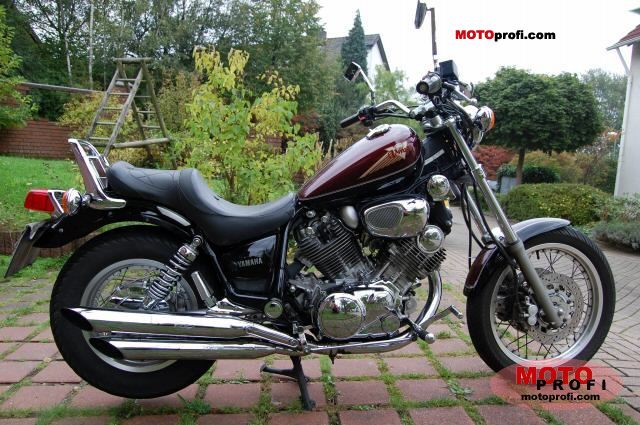 Also of interest would be The Suzuki VS/VZ800 which is a really tidy looking, strong line of bikes. There's not as much lego parts swapping available but you're starting with a pretty decent base and that can go a long way.
Honda's got the Shadow and all the ones leading up to it's most current version but in my opinion Ol'Sochiro's BLVD Pirates kinda got lost in the shimmer of the discoball. Most of the 80s/90s basic cruisers feel a little 'off the mark' to me but.......since these things should all be modified it may not matter and you can get'm cheap.
Kawasaki has offerings too but I'm not all that familiar with them to be honest.
So....what would YOU recommend as a good V-twin import to base a stripped down bobber on?